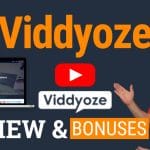 VIDDYOZE REVIEW
PROS
Create professional animations in a few clicks.
Absolutely newbie friendly!
CONS
No option to create animation from scratch.
VIDDYOZE REVIEW
Hello my readers, in my Viddyoze review we will look at the latest Viddyoze platform. Viddyoze already exists since 2015. It is a webbased 3D animation platform that allows you to create high quality, studio grade video animations in just a few clicks.
The new version of Viddyoze features brand new templates specifically suited to square and vertical formats, perfect for all social media platforms.
Pictures and especially videos are the most important tools in marketing today, as they can convey a message faster than written text.
Viddyoze Review
Viddyoze has a clearly arranged member area, where you will intuitively find your way around.
You simply lock in to the Viddyoze app from anywhere, any device, and choose a template you like the look of.
Then click on the "Customize" button to personalize the selected template with your logo and/or text. Click "Preview" and when you are satisfied with the result click "Create".
WATCH MY VIDDYOZE DEMO VIDEO AND SEE HOW EASY IT WORKS
There are at least 3 areas where you can use Viddyoze for yourself:
You spend a lot of time on social media and want to create your stories for Facebook or Instagram quickly and easily.
Spice up your YouTube videos with extraordinary intros and outros.
Create appealing short promotional videos for your business.
Viddyoze Review
You can also use Viddyoze if you run an agency to create attractive videos for your clients.
Or you can use it to set up your own business – possibly a second mainstay. One of my bonuses shows you how to sell the videos on Fiverr.
Here are a few testimonials from satisfied customers:
Viddyoze Review
There are 2 versions of Viddyoze available:
Viddyoze Personal is limited to 30 video creations per month but you cannot resell.
With Viddyoze Commercial you can create unlimited videos and you can resell animations to clients. (This is the recommended version if you want to set up a business!)
Upsell #1 is The Viddyoze Template Club
You get access to the entire back catalougue (1500+ templates) with an additional 20+ templates every single month.
Upsell #2 is Viddyoze Agency (White Label Edition)
My conclusion, which should end my Viddyoze Review, is that Viddyoze is a great tool that every video marketer or freelancer should really have in their arsenal!
EVERY BONUS INCLUDED BELOW YOU WILL RECEIVE IF YOU BUY THROUGH MY EXCLUSIVE LINK AND THEY ARE ALL THINGS THAT WILL HELP YOU!
How To Cash In With Viddyoze
In this tutoial Jono Armstrong shows you how to sell your Intro Videos and rank in Google.
How to Sell Viddyoze on Fiverr
In this tutoial Jono Armstrong shows you how to start a Fiverr Business with absolutely no experience.
Logo Studio
This is an easy to use software to create amazing logos for your business or your clients
SEO Blast Your Site to #1
In this tutorial Jono Armstrong shows you how to rank your websites organically in Google.
CLICK HERE And Grab Viddyoze Today And Get Started Building Your New Empire From The Bottom All The Way UP!